Take their word for it
I really like Hello Week and Goodbye Week. It feels good to set intentions at the beginning of the week and use the framework to capture how I'm doing and feeling throughout.

Selena
Clarity Pages help me understand the why behind my scheduled day and week.

Diane
Started reading Creating Balance and can't wait for the entire eBook to come out! Exactly what I need in my life right now!

Nicolle
I'm someone who struggles with journaling. At first glance, Clarity Pages looked like a lot for me, but after my first day with it I found it very easy to use. I enjoy the format!

Susan
I'm a checklist person, always anxious to cross items off. The last thing I would think of doing (and enjoying!) is sitting down and writing in a journal.  

When I first saw Clarity Pages, I was naturally hesitant but I find myself looking forward to writing in them every day!

Mona
Truly, thank you for creating this!" 

Busy mom and Clarity Pages user
When I first saw Clarity Pages, the clean design made me feel like it was something I could integrate into my week.

I love the tracker the most! I also really like the ability to prioritize my to-do list.

Kira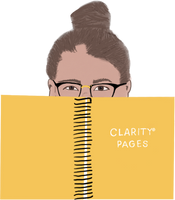 Annie, Creator of Clarity Pages
Hey, I'm Annie Sanchez, Creator of Clarity Pages and CEO of Mariposa Strategies.
At my core, I'm a seeker, a navigator of change, a believer in possibility.
I started my boutique personal growth company to help sensitive, brilliant leaders and entrepreneurs find possibility while navigating all the things with ease.
I created Clarity Pages at a time of personally intense overwhelm back in 2017/2018.
The journal, alongside reflection and using of my voice, are invaluable to my creativity, rest and success — and reduction in overwhelm and anxiety.
I'd really love to hear from you.
How are you using Clarity Pages, finding possibility and navigating life with ease?
Send me an email anytime: hello@claritypages.com.